ACUPUNCTURE COOLS HOT FLASHES
A smalll, yet intriguing study published in Acupuncture in Medicine found that traditional Chinese acupuncture curbed the severity of hot flashes and other menopausal symptoms. Fifty-three middle-aged, postmenopausal women were divided into two groups; one received such treatments twice weekly for 10 weeks, while the other experienced "sham" acupuncture with blunt needles that did not penetrate the skin.
In both groups, levels of estrogen and other hormones were measured before the study began and before and after the last session. Manopausal symptoms - hot flashes, vaginal dryness, urinary tract infections and mood swings - were also measured before and after th treatments, using a five-point manopause rating scale (MRS) in order to assess their severity.
At the end of the study, the women receiving Chinese acupuncture scored significantly lower on the MRS sclae, with hot flashes seeing the sharpest decrease. The researchers explain that acupuncture boosts production of endorphins, which may stabilize the temperature control system of the body. They say that more investigation is needed because the study was small, but note that its results seem promising, suggesting that traditional Chinese acupuncture could be an alternative for women unable or unwilling to use hormone replacement therapy to relieve manopausal symptoms.
Natural Awakenings, Central Florida
23 October 2012
New research finds that acupuncture reduces pain during labor. It was also discovered that acupuncture used during labor is associated with a decrease in the use of forceps and ventouse, a vacuum extractor used to assist delivery. In addition, the study concludes that acupuncture decreases the number of caesarean sections.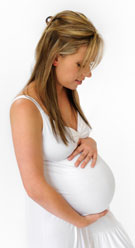 Acupuncture for Labor The purpose of the study was to determine effective interventions used to reduce labor pain. A review of pain management techniques examined both drug and non-drug intervention techniques. Acupuncture was determined to be both effective in reducing pain and effective in reducing medical complications associated with childbirth.
In related research, investigators conclude, "Less intense (labor) pain was found from acupuncture compared with no intervention." The research found that acupuncture improved satisfaction with pain relief over a placebo control group. The study also notes, "Reduced use of pharmacological analgesia was found in one trial of acupuncture compared with placebo." Of special interest, the researchers found that in 3 trials of 704 women that, "Fewer instrumental deliveries from acupuncture were found compared with standard care."
Another recent study demonstrates that acupuncture is safe and effective for reducing the time needed to deliver a baby. Researchers conclude, "EA (electroacupuncture) at Sanyinjiao (acupoint SP6) can shorten the duration of the active phase of the 1st labor stage." Electroacupuncture was also determined to be safe for both the expectant mother and the baby.
A random single-blind method was used in the clinical investigation. A total of 111 women were divided into three groups: non-treatment group, electroacupuncture at SP6 group, sham acupuncture group. The sham acupuncture group received stimulation at SP6 with an acupuncture needle guide tube and an acupuncture needle visually remained at the acupoint using an adhesive plaster. It was discovered that electroacupuncture shortened both the active phase and the latent phase of the first stage of labor without side-effects. As a result, the researchers concluded that acupuncture is a safe and effective method for shortening the duration of the first stage of labor.

References:
Jones L, Othman M, Dowswell T, Alfirevic Z, Gates S, Newburn M, Jordan S, Lavender T, Neilson JP. Pain management for women in labour: an overview of systematic reviews. Cochrane Database of Systematic Reviews 2012, Issue 3. Art. No.: CD009234. DOI: 10.1002/14651858.CD009234.pub2
Acupuncture or acupressure for pain management in labour. Smith CA, Collins CT, Crowther CA, Levett KM. Centre for Complementary Medicine Research, University of Western Sydney, Locked Bag 1797, Penrith South DC, New South Wales, Australia, 2751.
Zhongguo Zhen Jiu. 2012 May;32(5):409-12. Clinical observation of the impacts and safety of electroacupuncture at Sanyinjiao (SP 6) on labor]. Liu YL, Jin ZG. Department of Acupuncture and Moxibustion, China Meitan General Hospital, Beijing, China.
Drs. Oz and Roizen: Acupuncture temporarily eases symptoms of Parkinson's disease
Published: Thursday, October 25, 2012, 5:00 AM Updated:
Thursday, October 25, 2012, 5:05 AM
When Michael J. Fox got an ovation at this year's Emmys, it highlighted how much he's done to help people understand Parkinson's disease and to demonstrate how to live with it. His latest show (on air in 2013) echoes his real-life story: It's a comedy about a father of three who has Parkinson's.